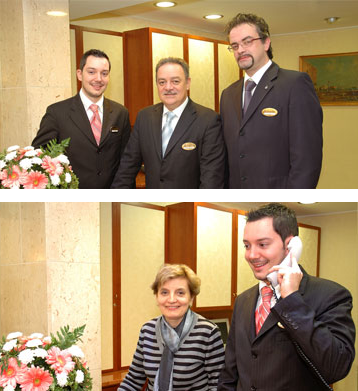 Our family has been managing the Hotel da Bruno for three generations. Guests kindly say that we are the very picture of Venetian warmth and hospitality. Our experience and expertise in 3 Star accommodation, flats and the city of Venice guarantees a pleasant stay for all guests. We and our staff will be more than ready and eager to help You with guided tours of both the significant and lesser-known attractions of Venice and the surrounding areas, from museums, concerts, gondola rides and the theatre to excursions to the Laguna islands and Venetian villas.

We give you the opportunity to choose your vacation satisfying every request and desire. You can choose the comfort of our Hotel da Bruno, benefiting the decades of Sartore family experience which follows strictly all the activities in order to be always available to the client and be ready to satisfy his necessities at any given time. Or you can live your vacation in full freedom always benefiting of the staff assistance: in this case, the right choice is one of our apartments.

Our family-run Hotel da Bruno offers 32 air-conditioned non-smoking rooms, all decorated in classical Venetian splendour. The rich furnishings are all outfitted in deep blues, pinks, reds, and yellows, an aesthetically pleasing design to complement the historic building that houses this 3 Star accommodation.
Our hotel and our apartments are located in the heart of the city's historical centre, mere minutes from the landmark Rialto Bridge and St. Mark's Square. The central location of the both the hotel and the flats make them perfect as a base from which to explore the city – and when a relaxing respite is needed, they themself provide the ideal ambience.